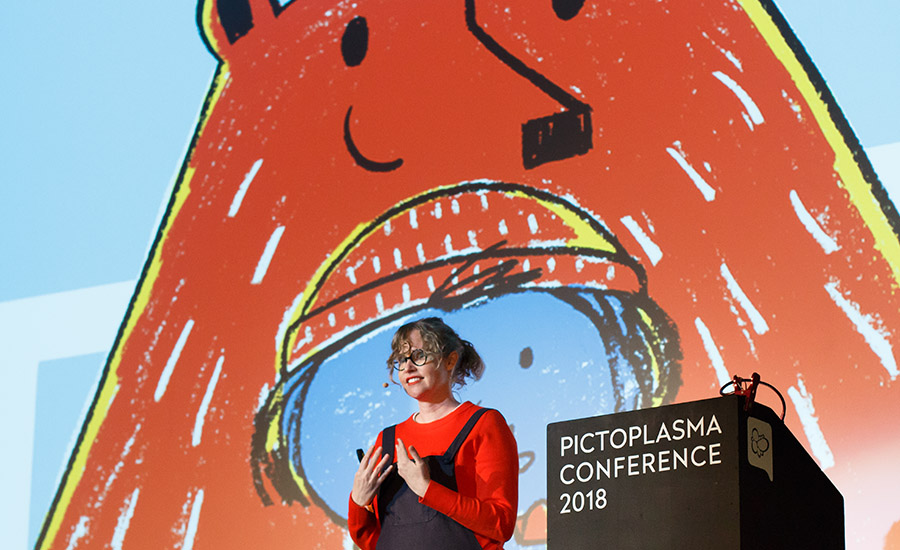 — 
AVAILABLE AS PICTOTALK!
Rilla Alexander is an illustrator, designer and picture book maker whose work has appeared on everything from toys and tea cups to busses and buildings. Her characters dance across Museo del Prado's ceramics and stationery, populate Swiss Credit Cards and sleep on the walls of a Copenhagen hotel (where she replaced the bed with a tent).
She has exhibited, spoken at conferences, and led workshops all over the world including the 8 day Pictoplasma Academy.
Her alter-ego Sozi stars in her self-authored picture books "Her Idea" and "The Best Book in the World". Her most recent book is a story by Jane Yolen, "A Bear Sat on My Porch Today".
Rilla Alexander starts off her PictoTalk with a quick drawing exercise (you'll need pen and paper!!!) and leads us through the ups and downs of finishing a project, be it her self-authored picture books or the recent collaboration with author Jane Yolen, 'A Bear Sat on My Porch Today.' Done it better than none!
2004, 06, 11, 18 Berlin, 2010 NYC