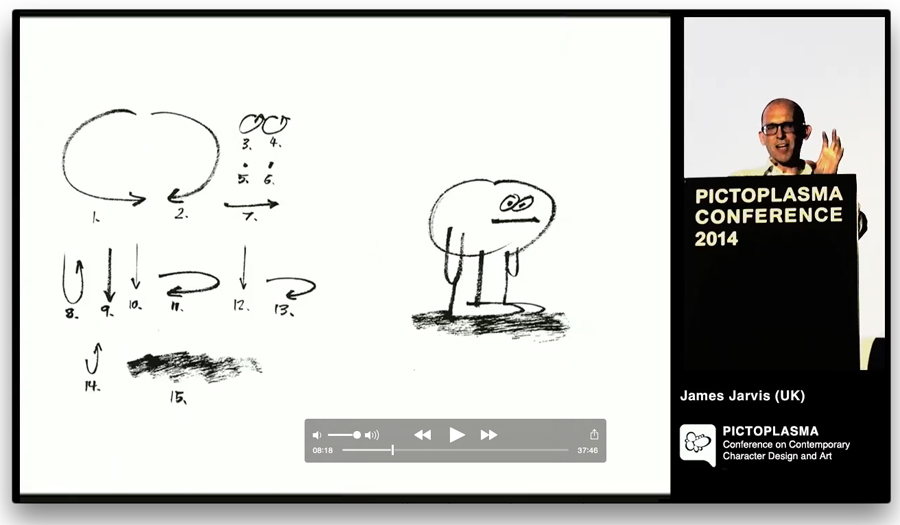 DOWNLOAD
PICTOPLASMA
CONFERENCE
TALKS
Pictoplasma Conferences are packed with inspiring talks and presentations by today's most innovative creators and talents, taking the stage to share a glimpse on their work process, motivation and personal development.
For all those unable to join the annual Pictoplasma Conferences in the flesh, those longing to re-visit the best moments, … or those simply unwilling to wait until the next edition, you can soothe the pain by downloading a HD window into some of the conference's best artist talks, served as approximately 20-40 minute 720p/1080p mov files for your convenient home education…*
*After purchase through PayPal/Sellfy a download link is automatically sent to your Email. Files are served as 720p/1080p HD mov file (H.264), featuring a small panel with video of the speaker and a large panel with slides synced to the presentation (unless otherwise labeled: stage camera only).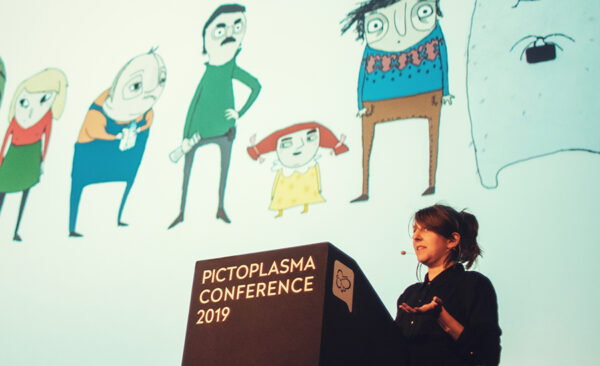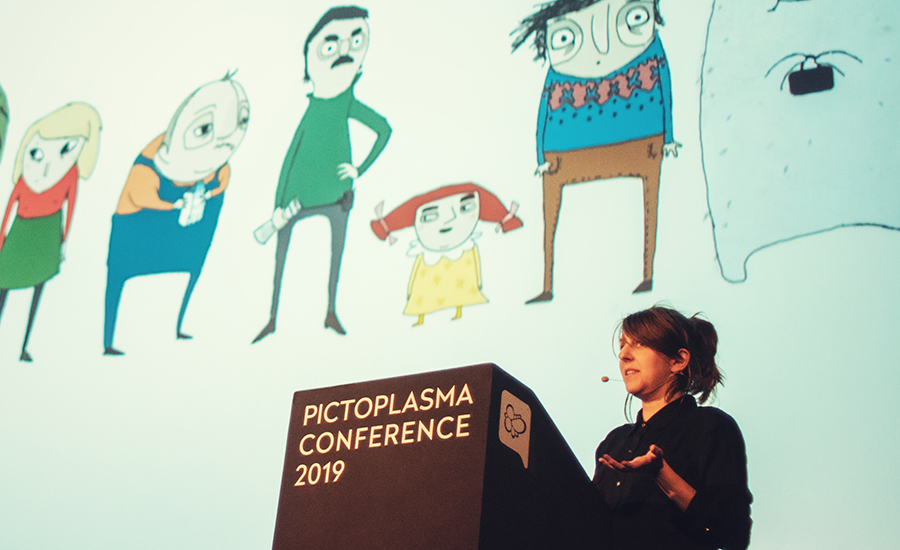 33'46'', 1080p mp4 (H.264), 256MB
Anna Mantzaris is a multi-award winning Swedish animation director based in London. Working in stop motion and felt puppets, her work is often character-driven and mixes humor and melancholy. Anna is represented by Passion Studios, where she directs various types of commercials and commissions, most recently a Christmas advert for Greenpeace.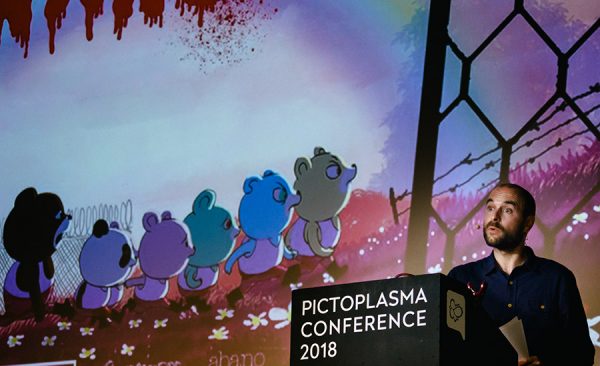 30'25'', 1080p mp4 (H.264), 612,9MB
Spanish writer, animation director, illustrator, and cartoonist Alberto Vázquez shares behind-the-scenes insight on the making of his multi-award winning short films and recent feature 'Psiconautas,' based on his dark coming-of-age graphic novel of the same name.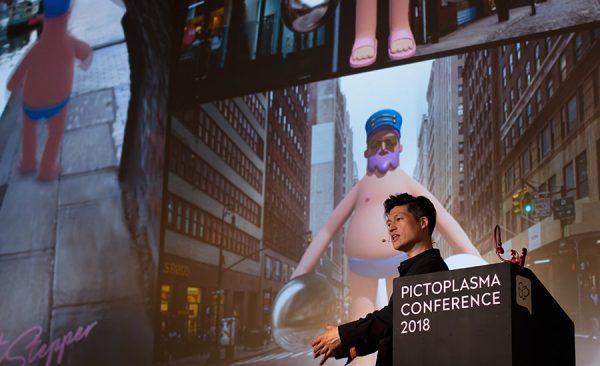 32'26'', 1080p mp4 (H.264), 623,1MB
Award-winning creative director Alex Jenkins for LA and London-based Nexus Interactive Arts shares his thoughts on possibilities and limitations of interactive AR and VR projects for clients such as Google, Snapchat, or The New Yorker.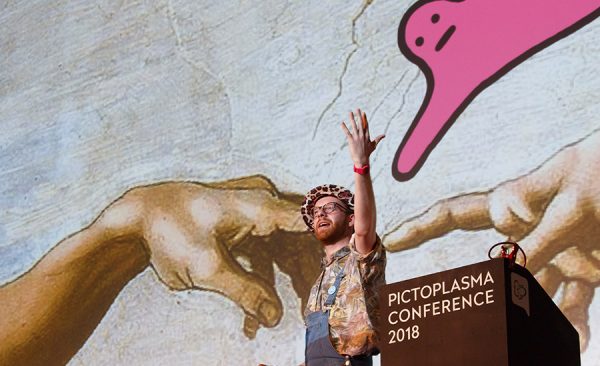 32'00'', 1080p mp4 (H.264), 714,1MB
'Webcomic Name' creator Alex Norris is famed for his viral meta-gags fusing tragedy and comedy. In his talk he reflects on the frustrations of false expectations, human relationships, and the existential insignificance of everything we do—and confesses that he struggles to write a comic without an 'oh no' punchline.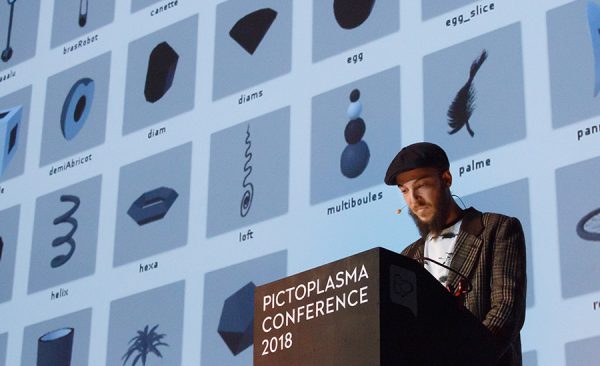 27'55'', 1080p mp4 (H.264), 640,9MB
Benjamin Vedrenne, known as GLKT, introduces us to his personal work revolving around digital experimentation, procedural generation, computer errors, glitch aesthetics, and the intersection of natural and artificial intelligence. He also loves playing with emerging systems, and has a bunch of Indie game recommendations.
24'19'', 1080p mp4 (H.264), 566,9MB
The Cachetejack universe is teeming with light hearted color, energy and humor —always with a quirky twist on everyday situations. The Illustrator duo made up of Nuria Bellver and Raquel Fanjul take the stage to share how much work lays behind their seemingly easy and engaging analogue drawings and paintings.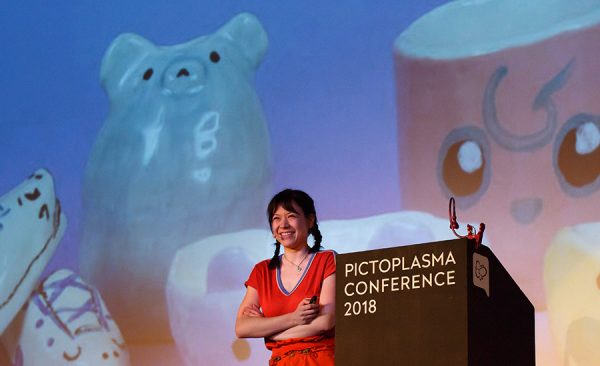 26'38'', 1080p mp4 (H.264), 511,6MB
Upcoming artist and illustrator Charlotte Mei presents her diverse body of work, from paintings and ceramics to animation, characterized by a bold and playful use of color, form, gestural mark-making—and character.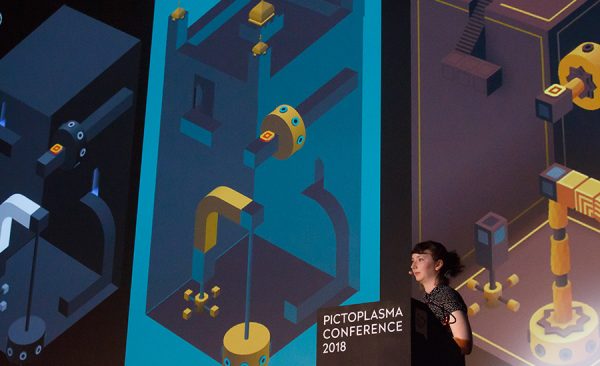 26'26'', 1080p mp4 (H.264), 554,1MB
3D artist and ambassador for WIGJ (Women in Games) Danette Beatty takes the stage to share her journey from the US to London, where she most recently worked as a level artist on ustwo games' 'Monument Valley 2,' the burden of maintaining a daily doodle project and how sharing 3D advice by writing up tutorials can help you grow.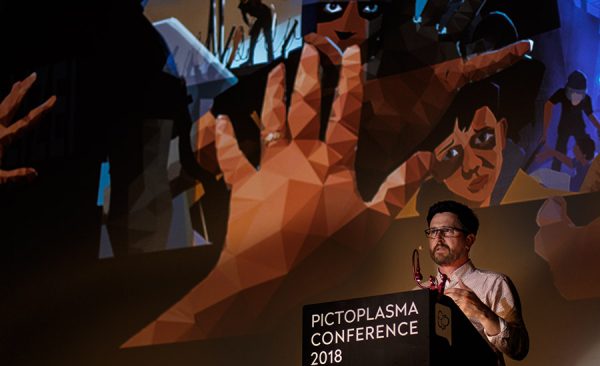 25'44'', 1080p mp4 (H.264), 491MB
Director and designer Darren Dubicki of Bristol based Aardman leads through the challenges of directing the studio's first fully immersive VR film 'We Wait,' which won best VR experience at the Broadcast Digital Awards.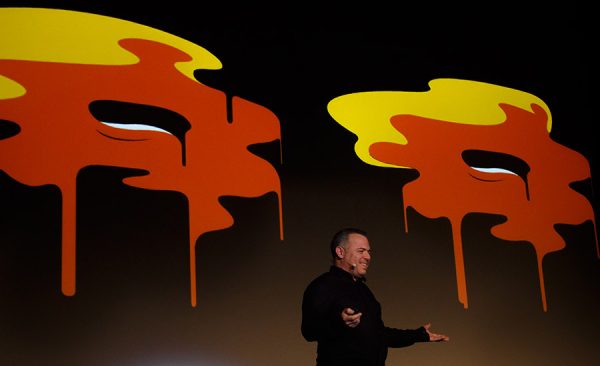 45'15'', 1080p mp4 (H.264), 723,3MB
As an artist of Cuban origin, who moved to the US as a teenager, Edel Rodriguez has a long illustration career and more than 100 newspaper and magazine covers under his belt. Yet it was his incendiary imagery taking aim at the Trump presidency for Time magazine and Der Spiegel that became immediate global icons, and turned him into 'Donald Trump's most hated artist.'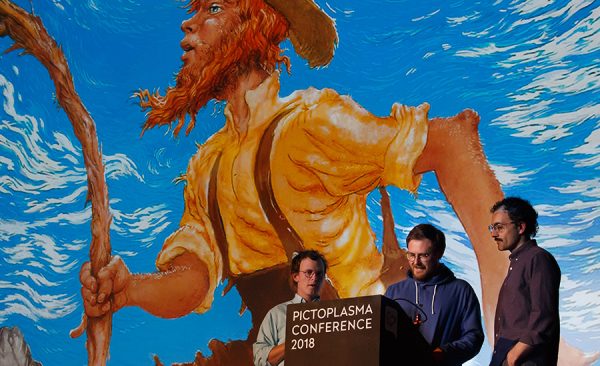 38'40'', 1080p mp4 (H.264), soon
California based film studio Encyclopedia Pictura, run by Isaiah Saxon, Daren Rabinovitch, and Sean Hellfritsch, takes the stage to share their taste for mysterious relationships with nature and technology. During their projects for the likes of Björk, Panda Bear, Dirty Projectors, or Grizzly Bear, they always stayed true to their unique approach: mix puppeteering, stop-motion, live-action, and CGI interactivity—with a meaning.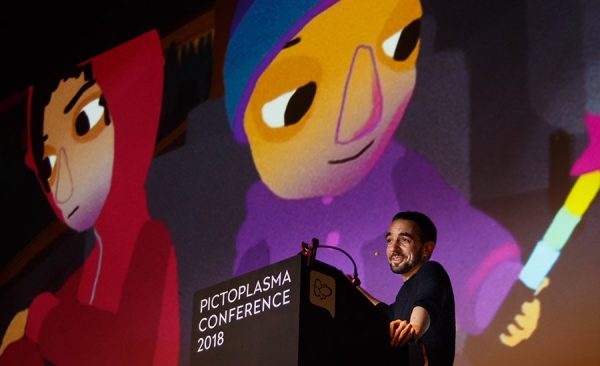 38'55'', 1080p mp4 (H.264), 629,1MB
After years of digital work Lithuanian animation director, visual artist, and founder of studio PetPunk Ged Sia discovered his love for stop motion and artisanal craftwork. His recent short film 'Running Lights' might have been a struggle in the making, but was awarded with several international awards and screened at over 30 film festivals around the world.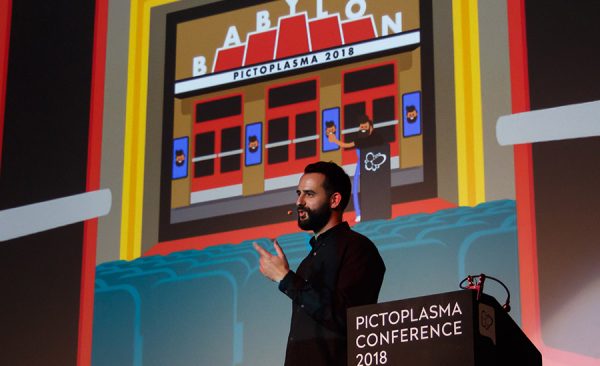 36'20'', 1080p mp4 (H.264), 792,8MB
British animator and director James Curran shares the making of his famed 'Gifathon' projects—30 animated GIFs released in 30 days based on his experiences living in New York City, Los Angeles, Tokyo—and a mini-gifathon in Berlin especially for Pictoplasma.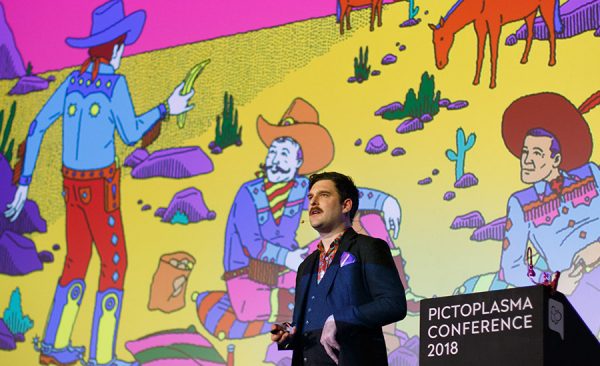 28'59'', 1080p mp4 (H.264), 819,1MB
Famed illustrator and artist Jim Stoten talks about 6 year old emails, the use of too many Photoshop filters and living and working from his home studio in Hastings, where he creates painstakingly elaborate drawings with a distinct psychedelic flair on commissions for clients from all over the world.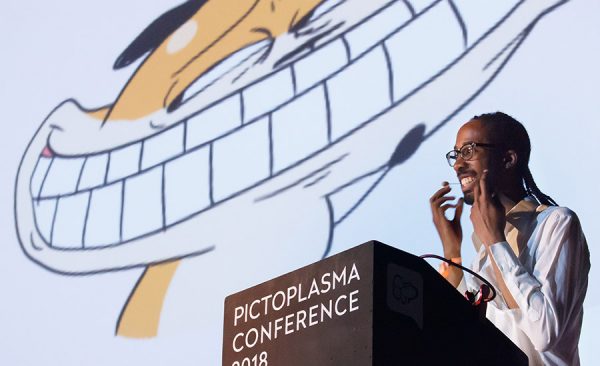 23'36'', 1080p mp4 (H.264), 535,6MB
French self-taught animator Kévin Gemin, better know as Kékéflipnote, confesses how he fell in love with the simple animation tools provided by his little Nintendo DSi and 3DS consoles. The resulting GIF vignettes of bouncing pigeons and foxes are currently creating a big splash online, and certainly made everyone in the conference auditorium smile!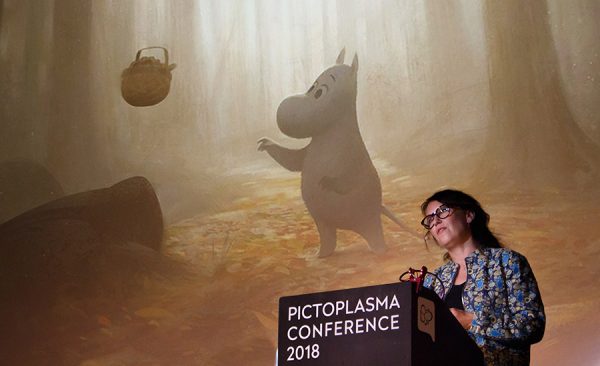 20'30'', 1080p mp4 (H.264), 461,9MB
Award-winning content creator at Gutsy Animations Marika Makaroff talks about the challenges of working as creative director and executive producer on the soon to be released 'Moominvalley' series, based on the beloved Moomin books.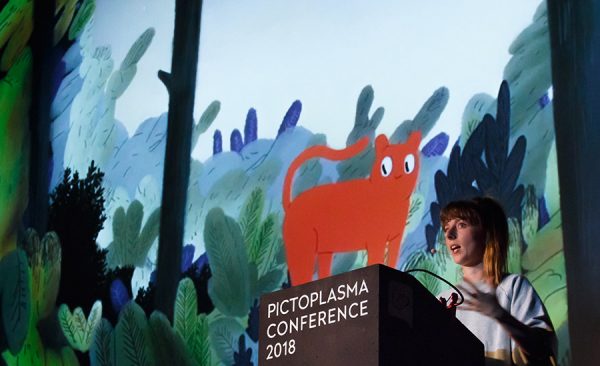 32'52'', 1080p mp4 (H.264), 577,4MB
Hungarian animation filmmaker Réka Bucsi takes us on a stunning tour through her career: from receiving a BFA to her Oscar shortlisted graduation film and beyond! After winning basically EVERY international festival award, and a feature film accompanied by a live jazz orchestra later, her advice is basically still the same: do we really need to obey traditional narration?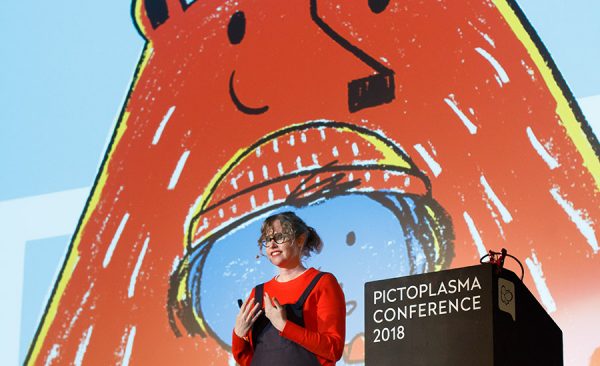 31'12'', 1080p mp4 (H.264), 607,4MB

Illustrator, designer and picture book maker Rilla Alexander starts off with a quick drawing exercise (you'll need pen and paper!!!) and leads us through the ups and downs of finishing a project, be it her self-authored picture books or the recent collaboration with author Jane Yolen, 'A Bear Sat on My Porch Today.' Done it better than none!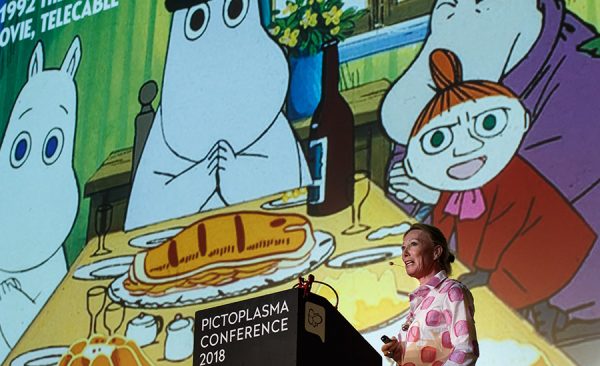 24'02'', 1080p mp4 (H.264), 442,1MB
Sophia Jansson, niece of legendary Tove Jansson (1914-2001), gives insight into her job of managing and protecting the Moomin heritage as Chairman and Creative Director of Moomin Characters Ltd, while remaining true and respectful to the spirit and artwork created by her aunt.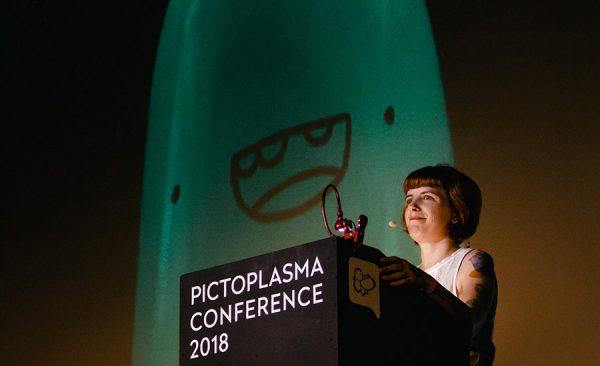 22'52'', 1080p mp4 (H.264), 577,7MB
Exploring art and technology, Deborah 'Tartaruga Feliz' talks about her workshops mostly with children in very different parts of the planet, passing on values and exploring the intersection of learning, interaction, and play as a path to strengthen creativity.
30'49'', 1080p mp4 (H.264), 769,3MB
Los Angeles-based Chilean artist Victor Castillo explains how he appropriates the narrative logic of children's book illustration and the aesthetics of vintage US animation to present pitch-black allegories about the human nature. His work has been described as political poetry rooted in his Latin American experience—which at the conference premiered its re-incarnation as animation, thanks to the help of Matias Rivera.
FREE PICTOTALKS FROM OUR ARCHIVES