13th
PICTOPLASMA
CONFERENCE
BERLIN
2017
Pictoplasma Conference 2014
PICTOPLASMA
CONFERENCE*
2017


BABYLON
ROSA-LUXEMBURGSTR. 30
10178 BERLIN – MITTE


At the heart of the Festival, the central Pictoplasma Conference presents 18+ key lectures by the world's most influential artists and upcoming talents, cutting-edge illustrators, authors, toy and game designers and leading animation filmmakers. It is the meeting point for 800+ international attendees, offering the chance to learn from and be inspired by some of today's most innovative and avant-garde artists.
–  CONFIRMED SPEAKER LINEUP 2017 –

CHARACTER LAB WORKSHOPS

ACUD MACHT NEU
VETERANENSTR. 21
10119 BERLIN – MITTE



GET YOUR HANDS DIRTY AT DAILY CHARACTER LAB WORKSHOPS


The Character Lab* accompanying the Conference engages attendees in hands-on workshops with various media, spontaneous art happenings and playful networking. Benefit from collaborating closely with Conference speakers and participating artists, meet new friends and build long lasting collaborations.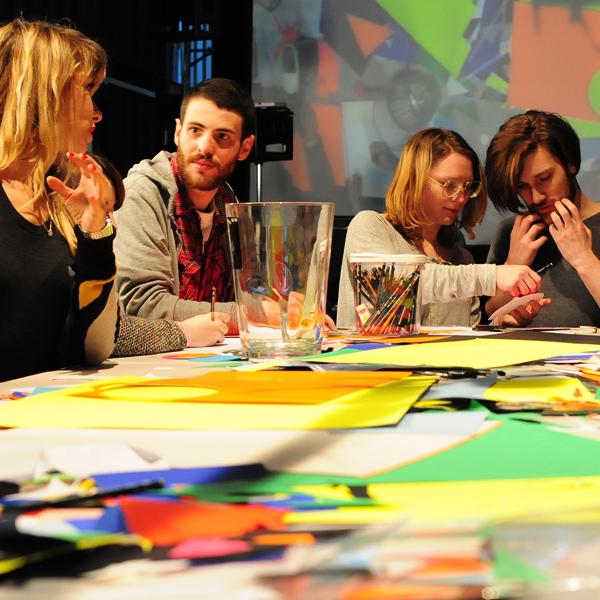 Character Crash Course with Nathan Jurevicius and Philip Hunt


Pictoplasma Academy tutor Nathan Jurevicius guides participants on an exploration of how far they can alter and manipulate their character creation—both physically and mentally. Drawing exercises incorporate elements of the annual Masterclass and engage exchange and collaboration within the group. In the second part of the workshop, Nathan is joined by Philip Hunt, director of Studio AKA and regular teacher at the Academy. Philip helps participants to get to the essence of narration and storyboarding, by condensing a story down to a limited numbers of panels. The Crash Course resumes with a playful jam session of transforming your creation into a character mask.
Mass Animation Massacre with Peter Millard and Sophie Koko Gate
Animation is the process of making the illusion of motion and change by means of the rapid display of a sequence of images that only minimally differ from each other. Etymology takes a broader view on the topic, stating that the same Latin word anima meaning "breath, soul" that gave us animal, has given us … "animate" meaning "to give life to."  
Keeping that in mind, conference speakers Peter Millard and Sophie Koko Gate join forces to breathe new meaning into the word, and await you for a full-day workshop of watercolored loops and flickering movement and feverish doodles, proving that animation – basically – means a lot of mess!
CHARACTER VR SALOON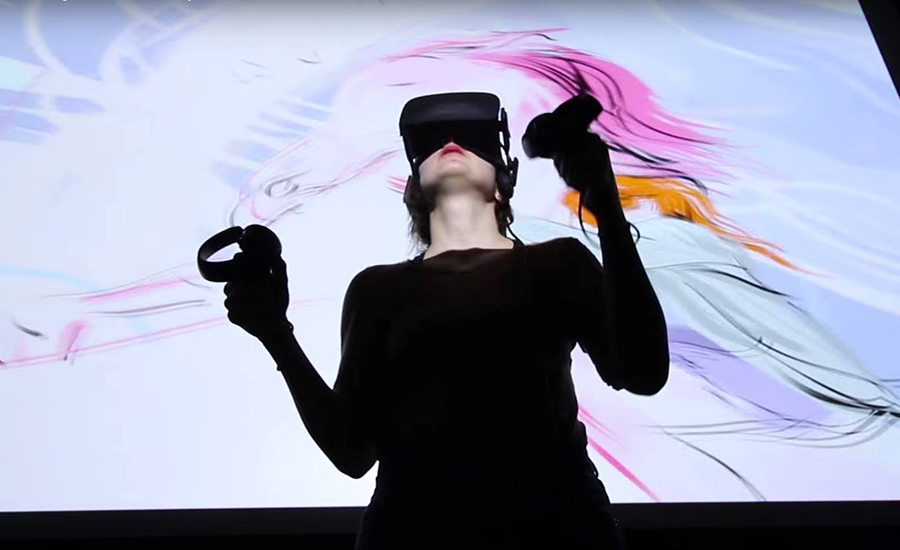 EXPLORE BRAVE NEW CHARACTER WORLDS


ACUD MACHT NEU
VETERANENSTR. 21
10119 BERLIN – MITTE



Get your out-of-body into-character experience at Pictoplasma's new Character VR Saloon, allowing you to explore the virtual worlds of Chris Haughton, Saschka Unseld / Oculus Story Studio, Sehsucht or KO_OP… 
Thursday May 11, 20:00 – 23:00 'GNOG' demo with Samuel Boucher

'GNOG' is a playful puzzle game about exploring monstrous virtual toys. Players can press, pull, slide, grab, click, and rotate parts of heads, machines and monsters to uncover their secrets! The game is developed by KO_OP studio in the iconic design of Samuel Boucher, and will launch in 2017 on Playstation, Steam (Mac/PC) and iOS.
Friday May 12, 12:00 – 15:00 'Dear Angelica' and 'Quill' demo with Saschka Unseld

'Dear Angelica' tells the story of a daughter connecting with her lost actress mother by watching old films on a VCR. Directed by Saschka Unseld, the 12-minute film was illustrated by Wesley Allsbrook using the Oculus tool 'Quill,' which allows anyone to create immersive 3D animations directly within VR. Moving around still images of the characters, the viewer experiences a journey through the magical and dreamlike ways we remember our loved ones.
Friday May 12, 16:00 – 19:00 'Moderat—Reminder' demo with Mate Steinforth

Mate Steinforth recently directed the immersive music video 'Reminder' for electronic act Moderat. A rebellious teenager slaves away in a dystopian world, harvesting crystals from a vast grey landscape and offering them to a tribal deity. With constant attacks from an army of drones, expect an intense experience inside this world, as viewed on Oculus.
Friday May 12, 19:00 – 22:00 'Pikuniku' demo with Arnaud De Bock

Pikuniku is an absurdist puzzle exploration game currently being created by Rémi Forcadell and Arnaud De Boc. Players have to rebuild a community by helping the 'worry people' confront their fears: You can't do much, alone.
Saturday May 13, 14:00 – 18:00 'Little Earth' demo with Chris Haughton

'Little Earth' is a virtual reality world to explore earth. It shows animal behavior at night and day and throughout the different seasons—and takes the player on an exploration of the solar system. 'Little Earth' is launched at Pictoplasma and then available on Steam for the HTC Vive, coming to mobile devices in the summer.
CHARACTER FORUM

CHARACTER FORUM
TALENT MARKET
 


BABYLON
ROSA-LUXEMBURGSTR. 30
10178 BERLIN – MITTE


Attending talents and companies meet face-to-face: Set in an intimate, friendly atmosphere, small groups of registered Conference attendees get the unique chance to meet, present and discuss their personal character based project or portfolio to a selection of industry professionals, exclusive makers and selected talent scouts. From animation to illustration, advertising to publishing, this is your chance to introduce your work to a fine group of pros!
WEDNESDAY, MAY 10


12+ EXHIBITION OPENINGS @CHARACTER WALK


12:00 – 20:00
Conference Attendee pre-registration 
and meeting point at
Academy All-Stars Group Show
Urban Spree / Revaler Straße 99

All Exhibitions and Group-shows remain open from
May 10 – May 14, open daily from 12:00 – 20:00
WELCOME PARTY @ACUD

21:00 – 00:00
Character Gathering Party
featuring Deadbeat

Animation Screenings
Best of Previous
Characters in Motion


THURSDAY, MAY 11


CONFERENCE @BABYLON


10:00 
Doors Open
Attendee Registration

11:00 – 13:00
Animation Program 1
A Character's Journey
14:00 – 15:30
Mate Steinforth (DE)
Louise Rosenkrands (DK) 
16:00 – 17:30
Jack Sachs (UK)
Nathalie Choux (FR)
18:00 – 19:30
Samuel Boucher (CA)
Nathan Jurevicius (AUS)

Saschka Unseld (DE/USA)
Unfortunately Saschka Unseld is no longer able to join us, but,
good news: Nathan Jurevicius has agreed to take over!
TALENT FORUM @BABYLON


Attendee group meetings with
selected industry professionals

16:00 – 17:00
Passion Animation Studios
17:00 – 18:00
B-Reel
CHARACTER LAB @ACUD

20:00 – 23:00
Characters go VR
'GNOG' demo with Samuel Boucher
20:00 – 00:00
Character Performance Night
featuring John Daker,
Daniel Haaksman,
The Incredibly Short Film Festival,
Colorama Open Studio,
School of Machines' Cereal Party
and Art Happenings by the 
Conference Speakers
FRIDAY, MAY 12


CONFERENCE @BABYLON


11:00 – 13:00
Animation Program 2
Character Care for Troubled Creatures
14:00 – 15:30
Pikuniku (UK/FR)  
Hasbro (US/UK) 
16:00 – 17:30
Eran Hilleli (ISR)
Chris Haughton (IRL)  
18:00 – 19:30
Sophie Koko Gate (UK)
Peter Millard (UK) 

22:00 – 00:00
Animation Program 3
Psychedelic Midnight Mix


TALENT FORUM @BABYLON


Attendee group meetings with 
selected industry professionals
12:00 – 13:00
Blue Spirit Studios 
13:00 – 14:00
Heimat 
14:00 – 15:00
The Walt Disney Company EMEA
16:00 – 17:00
WE ART AGENCY
17:00 – 18:00
Hasbro Inc.
CHARACTER LAB @ACUD


13:00 – 20:00
Character Lab Workshop
Academy Character Crash Course 
with Nathan Jurevicius and Phil Hunt
12:00 – 15:00
Characters go VR
'Dear Angelica' and 'Quill' demo with Saschka Unseld

16:00 – 19:00
Characters go VR
'Moderat – Reminder' demo with Mate Steinforth/Sehsucht.de

19:00 – 22:00
Characters go Procedural
'Pikuniku' demo with Arnaud De Bock
SATURDAY, MAY 13


CONFERENCE @BABYLON


11:00 – 13:00
Animation Program 4
In Awe of Creation
14:00 – 15:30
Rob Flowers (UK)
Ton Mak (CHN)
16:00 – 17:30
Pooya Abbasian (IRN/FR)
DXTR The Weird (DE) 
18:00 – 19:30
Sean Charmatz (US)  
Kirsten Lepore (US)

POST-PICTO PARTY 
@URBAN SPREE

22:00 – far too late
featuring Maxwell Farrington & François Club (live), Debruit (live), Henning Specht and Le Feu
TALENT FORUM @BABYLON


Attendee group meetings with 
selected industry professionals
13:00 – 14:00
Kurzgesagt
14:00 – 15:00
Studio AKA
CHARACTER LAB @ACUD


13:00 – 20:00
Character Lab Workshop
Mass Animation Massacre 
with Peter Millard & Sophie Koko Gate
14:00 – 18:00
Characters go VR
'Little Earth' demo with Chris Haughton


SUNDAY, MAY 14


12+ EXHIBITION FINISSAGES @CHARACTER WALK


12:00 – 20:00
Final Character Walk Day!
Central Attendee Hangover Meet'n Great location with Bloody Marys and art-happenings to be announced soon…